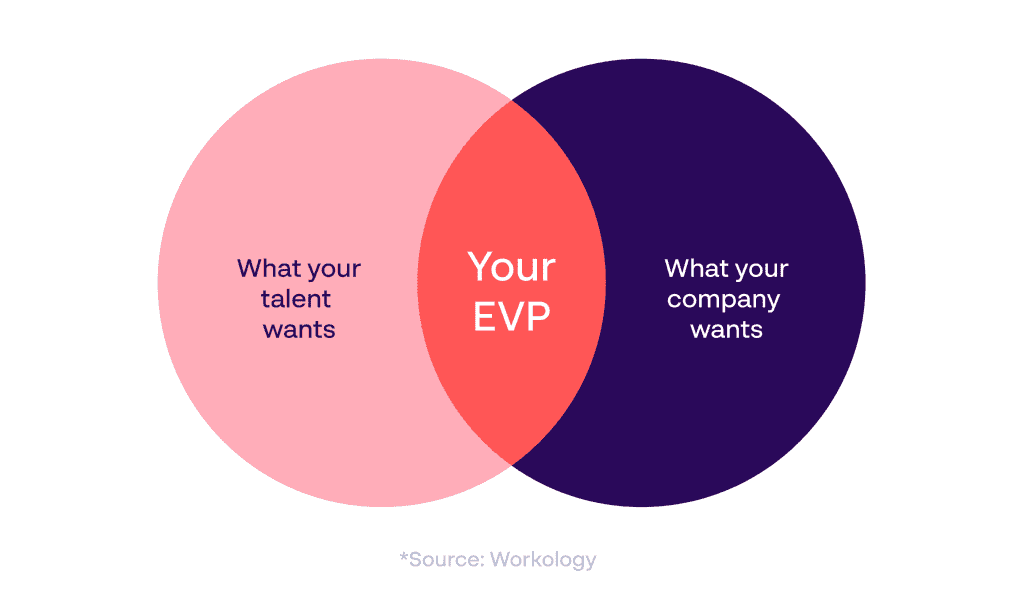 How to Successfully Build Your Employer Brand
What employer branding is not
Employer branding is not about advertising that you are a good employer. It's about being one. It's easy to think that the key to attracting the very best talent to your team is highlighting all of those cool perks in the workplace that look great on social media and the "Culture" page of your company website.
I mean, who wouldn't want to play ping pong at work like you or participate in your office-wide "Froyo Fridays"? However, here's some food for thought: if someone walked up to you on the street and asked you what makes your company so amazing, what would you say? Chances are, your response wouldn't be anywhere near, "Well, we have a cute ping pong table and free frozen yoghurt on Fridays."
Yes, perks are cool. Yes, they improve day-to-day life for your employees. However, they aren't going to keep people at your company and they definitely aren't the most important factor that set you apart from other potential employers. No, it takes much more than that to build your employer brand.
What is employer branding?
Your mission, current employees, company culture, and the opportunities for growth your organisation offers carry far more weight than any exciting games or free snacks. Those core elements of what it's like to work at your company are what people want to get a sense of before applying. And the key to sharing all this vital information is to build your employer brand.
Your employer brand is what helps prospective job applicants buy into what your company is all about—your culture, people, and purpose. This could be through your social media, business cards, logo, etc.
Your employer brand effectively highlights these qualities that make your organisation a special place to work, setting you apart from the crowd, humanising your organisation, and ultimately inspiring candidates to apply for your consideration.
Improve your employee engagement in less than two minutes
Learn yourself
Look inward and find out what makes your workplace unique. Start with your current star employees – the ones who have been around for a while and have thrived within the organisation.
Sit down and ask them: Why did they join? Why have they stayed? What aspects of your culture and ways of doing business really excite them? Understanding the motivators of these employees is the first step to continuing to attract and retain more like them.
Nurture your culture
Keep in mind that your employer brand is a reflection of your culture and so building a positive culture is the key to building a strong employer brand. What type of culture are you aiming to create? What type of talent do you need to bring on board to create that culture? What do they want?
For example, according to Deloitte 83% of millennials are actively engaged when they believe an organisation fosters an inclusive culture so you need to make your hiring more inclusive to attract more millennials.
Leverage brand perception
In fact, Glassdoor reports that 70% of people look at reviews before they make career decisions. These platforms are a source of valuable feedback to identify and tackle pain points that could deter right-fit talent from applying as well as improve your organisation's employee value proposition as a whole.
Respond to online reviews
You can't control what people say about you online, but you can control how you respond. Use the feedback you receive from online platforms or your own candidate experience survey to build your employer brand.
If, for example, past candidates share negative interview experiences, you should look into training your hiring managers on interview techniques. Even if they are harsh and/or rude, always make it a point to respond to negative reviews and comments with grace and empathy.
Embrace and leverage social media
For example, you could post your jobs on Facebook. Or, you could capture company events moment-by-moment with Snapchat. And when it comes to your social media strategy, you have to be yourself. People can tell if you're faking it, and then they will be discouraged from applying for your open roles.
Tell your employees' stories
Your current employees are employer brand's biggest ambassadors. Most candidates want to know what their potential future coworkers like about their jobs. Use genuine employee testimonials to add a human element to your careers page.
You could shoot videos of employees at work, while also providing an office tour. Such storytelling is an opportunity to make your brand personal, to tell the story of real people rather than the faceless company. Such engaging human narratives help you better attract the type of candidates who could see themselves creating similar stories.
The Importance of Employer Branding Strategy
Image via Shutterstock
Before we get started, let's review the basics. Your employer brand impacts just about every facet of your business, from recruiting and retention to performance and profitability. We all know the proof is in the pudding, so consider the following statistics:
Given all that, ask yourself one question: Is your employer brand something you want to leave to chance? Taking the time to develop a documented employer branding strategy will streamline the development process and ensure everyone is working toward the same goal. Okay, on to the tips.
Planning Your Employer Branding Strategy
Step 1: Align your strategy with organizational needs.
An effective strategy will be shaped by the business's short- and long-term needs, taking into account everything the organization wants to accomplish and the skillset it will require to do so. Fortunately, aligning your employer branding strategy with organizational needs is fairly straightforward. Start by answering a few basic questions:
Example: Within the next three years, Acme Co. plans to launch a new mobile app. To meet this goal, the organization will need to hire an additional five developers within the next 12 months.
Step 2: Set actionable objectives.
An employer branding strategy must help the organization solve a problem or accomplish a goal, and setting actionable objectives is the best way to ensure this happens. While every business must define its own recruitment goals, well-crafted objectives will always share some common traits. They will be:
Example: Acme Co.'s internal recruiters will be responsible for sourcing and hiring three app developers within the next six months and an additional two app developers over the following six months when budgets are refreshed.
Notice how our sample objective meets the criteria. Target: hiring app developers under a budget, Measure: five of them in total, Plan: 12 month timeline/deadline, Assign: internal recruiting team.
Step 3: Define relevant KPIs.
Image via Shutterstock
If your goal is to reduce total recruiting costs by 20% over a six-month period, cost-per-hire would be an essential KPI. The KPIs you define will vary based upon your objectives, but there are some best practices when it comes to selection:
Step 4: Develop a measurement plan.
A measurement plan will ensure you're equipped to collect and analyze the data you need to make informed decisions. Those unfamiliar with measurement may feel a little intimidated, but developing a plan is a straightforward process that consists of answering a few questions:
Step 5: Allocate resources upfront.
Image via Shutterstock
Defining roles and responsibilities up front will minimize roadblocks later in the process and help ensure deadlines are met. One of the biggest questions you'll face when allocating resources to develop employer branding strategy is whether to keep things in-house or enlist the assistance of an outside expert. Both options have advantages:
Step 6: Create target candidate personas.
A candidate persona is a semi-fictional representation of your ideal candidate, developed to help recruiters better understand the candidates they're pursuing. It provides insight into the factors that motivate candidates to seek out and accept — or deny — a new position.
beamery.com
Candidate personas require first-hand feedback from prospective employees, so you'll have to conduct some interviews to get the information you need. We recommend a minimum of 10, but the more the merrier. Recent hires can also provide valuable insight, so make sure to include them in your interview schedule. You'll want to collect as much information as possible, so it can help to break down your interview template into segments. Here are few criteria to consider:
Demographics are important factors to consider and can be extremely helpful when targeting candidates. However, be careful not to target too narrow thus unintentionally excluding populations and reinforcing unconscious biases. Not only is it unethical but it's illegal, so watch out.
Step 7: Develop a compelling employee value proposition.
The employee value proposition (EVP) clarifies the expectations of both the candidate and company when a new hire is made. Creating a meaningful EVP is arguably the most important thing you can do when developing your employer branding strategy. It will serve as the foundation for your communications materials, influencing everything you say and do when recruiting talent.
13 steps to best practice with your employer branding strategy
Effective employer branding strategies can be the difference-maker in an ideal candidate's decision to join your organisation over the other options available. Following these best practices gives you greater control over the messages you project, and the ability to influence how these individuals see your brand.
Before developing your employer branding strategy, it is important you have a clear understanding of how people view your company initially. Otherwise, how will you know what adjustments are required?
A thorough audit of your current brand perception, both through the eyes of your employees and your external audiences, lets you understand if your current messaging and reputation is projecting the values and attractiveness you are aiming for. Especially in organisations with teams spread across the globe, it is easy for your values to be mistranslated, or be in needing refinement to connect with local audiences.
Employment review sites – most candidates will be researching these in detail before making a decision on their next employer. What are people saying about your company's processes and culture? Do you get rated five stars? Do you come across as an attractive brand? Are there negative reviews? If so, have you addressed them effectively?
Social media – investing in social listening tools can help you track mentions of your organisation over social media, so you gain a deeper insight into how people view your brand.
Employee feedback – conducting internal surveys or having open meetings with your teams helps you identify problems that might be affecting your ability to attract and retain talent, so they can be rectified as part of your unified employer brand strategy.
Google alerts – like on social media, it is important to closely monitor the reputation your brand is presenting on Google and other search engines, and determine if this is in line with your objectives.
Who is your ideal candidate? Without a clear answer to this question, you are in no position to effectively develop an employer branding strategy that targets a person with the personality, aspirations and skills to seamlessly join your teams.
This is just a sample of the line of questioning you should be asking about what constitutes the right employee for your brand. Of course, these qualities will differ according to the specific staff role and location you are marketing to, but at a fundamental level there must be a template that helps you craft branding that appeals to the right candidate.
Furthermore, by clarifying your ideal candidate, it is more likely that their transition into joining your team and growing within your organisation will be more satisfying and fulfilling.
This feeds into your employer branding strategy by determining why someone would choose to join or stay with your company over X competitor. To effectively establish your differentiators or USPs therefore, it is important to reassess your own values and compare these with potential alternatives for recruits.
What issues do you stand for that others don't? What aspects of your work culture can you promote that others aren't? Where does your brand excel and stand out against what your competitors can produce? The answers to these questions will define the unique characteristics your company has to boost your attractiveness to recruits.
86% of HR professionals believe recruitment is now on an equal footing with 'marketing'. In the same way your marketing efforts are geared to set your products and services apart from the crowd, your employer brand strategy needs to working just as hard to keep you in the minds of candidates and improve your current teams' sense of belonging.
As part of establishing your audience persona, you should have a clearer understanding of what channels are going to connect with the candidates you're seeking. But it is vital to have these defined as part of your employer branding initiatives, and that consistency is maintained across all platforms you choose to utilise.
By choosing the most effective channels, be it through a careers page on your website, paid media campaigns, or taking your employer branding to social media, you are in a position to tailor and target your audiences far more successfully. Ask employees how they first encountered your brand. Research the most popular platforms and forums for people working in your industry.
Once you've identified where you will engage with, use these platforms to frequently translate the inclusivity, vision and development of your brand and your employees. These images, blogs, testimonials and more across the most popular channels for your audience will drive a clear connection with what your brand stands for.
Sources:
https://inside.6q.io/how-to-successfully-build-your-employer-brand/
https://builtin.com/employer-branding/employer-branding-strategy
https://www.papirfly.com/blog/employer-branding/13-steps-to-developing-your-employer-branding-strategy/